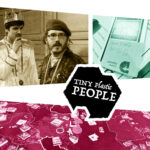 James, Pete, JD and Dines have been in a hot hot room, then return to other hot rooms to talk all about the fantastic mega game experience they had in London on 18 June. That game was First Contact 2035 run by Very Large Huge Games. Basically, aliens arrive, but earth? Well, we got other problems.
So what is a mega game? Well, it is a game, but it is not quite a LARP, and it is not quite a model UN, there are 200+ players, there are aliens, and dice, but also at some point you can frame your friends for having weapons of mass destruction…
We natter about our experiences on the day, the odd stuff that occured while we attempted to maintain control and generally break down why we had such a great time. We should also say when we mention the actions of other countries, these in no way represent our opinions of them in real life, just within the world of the mega game.
Finally, we also attempt to put the game back into our minis loving box by talk what we could maybe apply some mega game etho to our plastic, metal and resin habits.
Mentioned in the podcast were:
Very Large Huge Games: https://www.verylargehugegames.com/
Mega Game Assembly: https://www.megagameassembly.com/
Shut Up Sit Down's 2015 classic Watch The Skies episode: https://www.youtube.com/watch?v=hN71v9H_gg8
Photo of Tom D and James used with permission from Very Large Huge Games