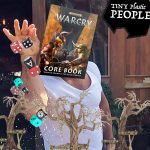 Welcome to another TPP special episode! Join Rachel, John and JD to learn why Warcry is the current 'Secret Best Game(tm)' in Games Workshop's range! How does the new edition stack up to the 2019 Age of Sigmar skirmish
This was recorded a little while back, before Sundered Fate came out in fact, but regardless, it remains a perfect start to your adventures in either the Eightpoints, or, if you simply must be up to date, the flesh eating tree forest of Gnarlwood.
So, why should you play Warcry? Let the TPP team tell you! With words!
As always, you can find us at tinyplasticpeople.com
Email us at tinyplasticpeople@gmail.com
Like, subscribe and give us a review!
Editors note: There is a little bit of glitchyness in some of the audio. We have cleaned it up as much as possible.