Welcome to the May edition of the Month In Miniatures, all the news that's fit to print in the world of Warhammer, from your friends at Tiny Plastic People. This month's news is a bit of an odd one, since the most major event has gone from "not officially announced" to "everything to know is available" within the last thirty days, so bear with me as some of this will seem much faster in retrospect than it was as it was released.
I refer of course to those radical Imperial Fist models that are exactly what I've been waiting for, holy shit look at them the third edition of Age of Sigmar.
The Third Edition of Age of Sigmar
It's the third edition of Age of Sigmar! Hell yeah! This had been rumored for a little while but was finally announced at Warhammer Fest, followed by a dedicated release stream. That started with a very cool trailer, which I will embed below, and I would recommend you watch.
Rad, huh?
The first harbinger of the new edition will be a mega boxed set called Dominion, which will pit a selection of new Stormcast Eternals models against a new range of Orruks, the Kruleboyz.
Dominion includes sixty models, an exclusive rulebook for the new edition, warscroll cards and a "start playing" book. It's up for preorder in June – probably a two-week preorder window – and will probably sit somewhere between £125 and £175, based on how much similar boxes have cost previously, though if I were a bit more pessimistic I might be putting £200 aside. GW have confirmed that Dominion is limited edition, and although they've promised to make plenty… if I really wanted it, I'd make sure to be ready to pre-order it as soon as it goes live (10am your time, maybe not a minute later). That said, if it follows the same pattern as Indomitus (from Warhammer 40k's latest edition, this time last year), all the models will be available separately in some form or another sooner or later. Personally, I'm very excited about the Kruleboyz but will probably not try and fight my way through the potential pre-order feeding frenzy.
Shortly after the release of Dominion, the new edition will be coming out separately. The preview stream included a segment on the new rules in the edition. I'll embed that below as well, but here's a quick summary of the eight points they raised.
The first two armies to be released for the new edition are likely to be the aforementioned Stormcast and Kruleboys. The Stormcast seem to be additions to the existing Chambers, rather than a new, distinctly-themed subset (e.g. Warrior Chamber, Vanguard Chamber), but are all pretty cool, with a sort of greek Hoplite look and more slimline "thunderstrike" armour. The Dominion box includes some more basic troops and heroes, but also announced was a hero with a longbow considerably taller than himself, more gryph-hounds, and a chariot! I love chariots.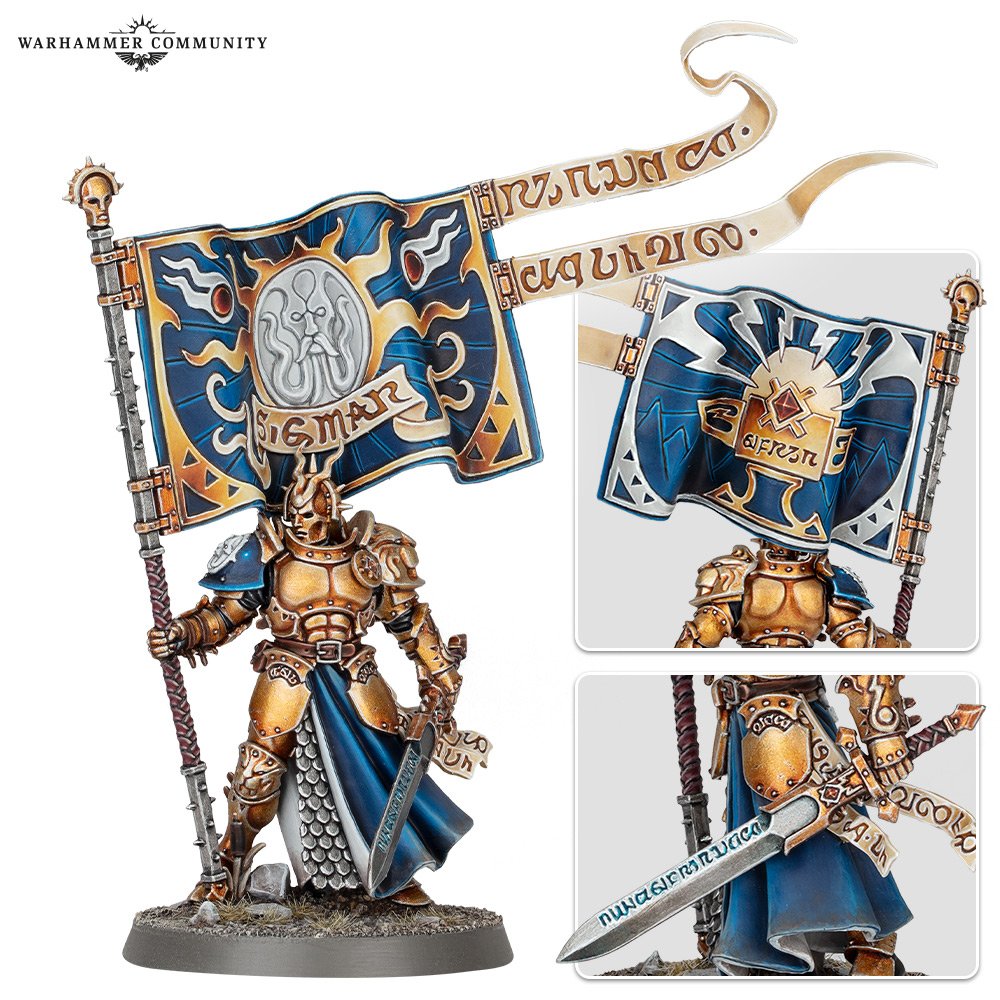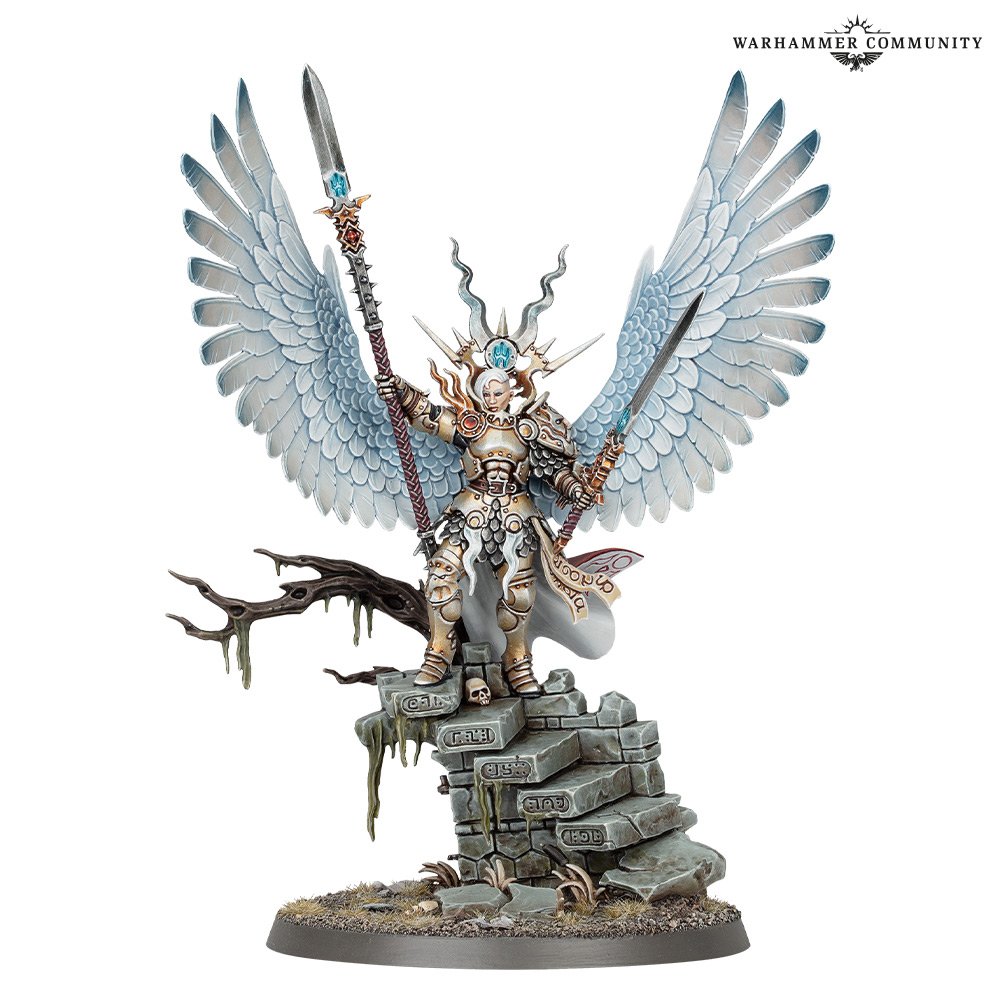 Kruleboyz seem to fit between Orruks and goblins, sizewise and presumably taxonomically, and appear to be inspired by the gribbly look of the orcs from the Lord Of The Rings films, with a dash of classic goblin – beaten iron plates, red-face leering shields, and some great big crossbows. Apparently they'll fit into the existing Orruk Warclan rules – although the current rules setup is flexible enough that this doesn't necessarily mean a new Warclans rulebook.
Releases/Preorders
The majority of releases this month were the lead-up to Age Of Sigmar 3: Age Of Sigmar With A Vengeance. Firstly, we had two waves of models and a new book for the Soulblight Gravelords (that's vampires to you and me), including new models for several staples of the army, such as Skellingtons, Zombos, Dire Wolves, and Vampire Lords, plus several new characters and wilder concepts – several named heroes from the Vyrkos dynasty (made famous by last month's cursed Cursed City board game), and the Avengorii lord, a sort of giant bestial vampire creature.
This was followed up by preorders for the final instalment in the Broken Realms narrative series, Broken Realms: Kragnos, revealing Kragnos as the centauroid God Of Earthquakes. He acts as the overall leader of the Destruction faction, and is accompanied by a bunch of heroes that were previewed last month, including a remake of the classic character Lord Kroak, new Slaanesh daemons, and a pair of witch hunters.
The other releases this month include a new rulebook and character for Warhammer 40,000's Adeptus Mechanicus faction, plus an updated set of Matched Play rules for the game as a whole. These new scenarios and points values should in theory help keep the game balanced when playing in a competitive manner, even though large events have been fairly thin on the ground since early last year. For some reason. As an aside, it also apparently reveals the existence of the next two army updates for 40k: after the already-known Orks and Sisters of Battle, bad magic supermen the Thousand Sons and good magic supermen the Grey Knights will be released. One of the Warhammer Fest reveals was a battle box with the theme (or perhaps name – unconfirmed as yet) "Fire and Magic", which seems to be a Piety and Pain-style clash between the two factions.
To round out the month's releases (now that we're back on a full schedule), Hedkrakka's Madmob (the Bonesplittaz orruk warband for Warhammer Underworlds) and Hive War (the new starter for Necromunda) were released – both previewed previously.
Warhammer Fest
Warhammer Fest was the biggest upcoming news last month, but has been somewhat left behind this month by how immediately afterwards everything in it was released (or shown more fully.) To quickly rattle through the offerings:
Things That Aren't Tabletop Games
Almost unnoticed in the AOS3 excitement was a special preview for the Warhammer Animation series. It was perhaps less of a big event than the other previews, even if you're especially looking forward to the animations. The main attraction was the first five minutes of the upcoming Angels Of Death series, as well as the announcement of a handful of other series – in total, there seem to be eleven animated projects in the works, about most of which we know little more than a title and synopsis.
Also of note is the first announcement of how these projects are going to be delivered: something called Warhammer Plus, which seems to be a video on demand subscription service? They've made loose hints that it might be Something Else as well, so i'll reserve judgement – including the suggestion of exclusive models? More information will be available by the end of June, apparently.
Additionally, another trailer has been released for Total War: Warhammer 3. The cinematic trailer includes more detailed looks at the Khorne and Kislev factions, including a Kislevite Ice Queen summoning a giant nature-spirit bear to fight a Bloodthirster. A secondary video showcased the Survival gamemode, a sort of tower defense mini-campaign in which players need to take and hold chaos citadels, building ad hoc defenses and deploying buffs. It looks good for a meatier chunk of battle mode content than either the campaign or individual battles can afford and – hang on, is the Tsarina sliding about on summoned ice like Frozone? That's pretty cool.
Miscellaneous
And there we have it! If the previous big releases have been anything to go by, next month will see a constant drip-feed of minor news about how individual factions and features of Age Of Sigmar will be changing, which as your faithful newshound I will do my best to summarise… somehow.